The backbone of any office is their voice and data wiring system. This structured cabling system is important because it's the key to running all the necessary computing, fax, and phone calls. This includes but is not limited to; phone systems, voice mail, computers and internet access.

We understand the vital role that the communication network plays in information management. In today's business the distribution of information is a necessity whether transmitted by voice, computer, video, or any other electronic media.
Our foremost commitment is to provide a reliable and flexible data and telecommunications cabling infrastructure that will deliver your data over a variety of transmission technologies.
From network design, cabling and integration services by RCDD-qualified engineers to installation by BICSI certified installers, we have the telecommunications service expertise and experience to successfully implement structured cabling, voice & data systems design and installation for any size business.
Our expertise at fiber-optic cabling and cable tray installations means that we can install and wire switches for both high-tech and traditional business clients.
We are aware that the key to optimizing your voice and data infrastructure investment is proper planning that will take into account your needs today and those of the future.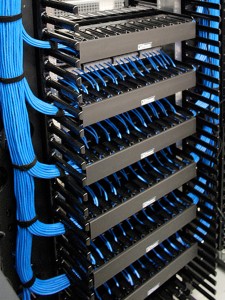 Whether your business requires copper or fiber optic cabling, we do it all. Our state-of-the-art services include structured cabling and wiring for your facility's overall communications system as well as custom voice and data solutions.
Voice
Small business phone system installation with VOIP capabilities
Unified Messaging (UM) integration – email, FAX, SMS, voicemail, etc.
Cabling installation to meet today's EIA/TIA standards
Data
Data cabling installation to meet today's EIA/TIA standards
Inspection, certification and consulting on your existing data cabling infrastructure
Fiber Optic Cabling
Single- and multi-mode fiber optic installation and certification
Power distribution and monitoring through generators and UPS units
Precision cooling and environmental monitoring to safeguard electronics and data
Electrical bonding and grounding
Enclosures, racks and pathway components
Fiber optic and copper conductivity (Cat 5E to 10G)
Installation of multiple layers of security with full monitoring
Why Use Structured Cabling?
Consistency
A structured cabling system can use the same cabling system for everything. Standardize your systems for phone, Ethernet, and ISDN cabling in order to simplify troubleshooting issues and streamline future cabling updates.
Long Life
With support for multi-vendor equipment, a standards-based structured cabling system will support your applications and hardware even after you change or mix and match vendors. With a proper structured cabling system, you can avoid reworking the cabling when you upgrade to another vendor or model.
Simplify Moves / Adds / Changes
Whether you need to move a computer or TV from one room to another, share files or printers between computers, or add high speed internet, multiple phone lines, or fax to your office, a structured cabling system can streamline the process.
Simplify Troubleshooting
Even cables that were installed correctly can fail…and they do. With a structured wiring system, problems are less likely to knock out the entire network, easier to isolate, and more straightforward to fix.
Support for Future Applications
A structured cabling system will support future applications like multimedia, video conferencing, and plenty more with little or no upgrade pain.
The design of wiring systems for voice communications has not changed radically over the last twenty years. Bringing a telephone line to a user`s desk is a simple and well-understood task. However, changes in business applications require the integration of voice applications with support for data, graphics, integrated services digital network connections, and other services over a single, standardized cabling system.
In contrast to voice systems, data communications cabling systems have undergone many changes during this same period. Data network cabling has evolved from the proprietary solutions of the 1970s, with shielded twisted-pair and coaxial cabling, to the rise of standards-compliant structured wiring systems in the late 1980s, when unshielded twisted-pair, or UTP, and optical-fiber cable predominated. In addition, data communications is no longer confined to a particular department or even a single company. The exchange of information is essentially without boundaries.
Planning is key and we will work with you to design the best system for your needs
Managing and designing separate systems to support voice and data has become a thing of the past. System designers now have to plan telecommunications infrastructures without knowing whether any given user will require two voice ports, such as phone and fax, with one data port or only one voice and two data ports, such as Ethernet and video. The need for this kind of flexibility means that proper planning for present and future applications is essential.
Our team has adequate manpower to take on all sized Structured Cabling system projects. Our trained technicians take pride in their installations and do what it takes to make sure the customer is satisfied with the installation.
Contact us today for a free estimate.