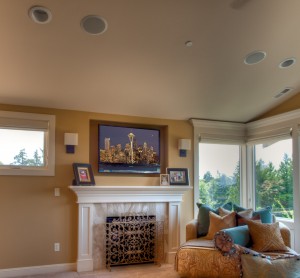 Our distributed audio systems guarantee an unparalleled listening experience, with wired and wireless distributed audio solutions specially designed to match incredible fidelity with the latest in streaming source variety and intuitive control.
Commercially designed audio for the ideal atmosphere
Studies have shown that a well designed audio system can improve the perceived atmosphere of an establishment, and can influence customer spending as well. These systems demand careful planning taking into account technical factors such as sound coverage and volume level, and also aesthetic features such as speaker type and placement.
Our individualized designs can range from a system designed to put one sound source in one area at one volume level, to multiple zone systems with the ability to control volume levels and sound sources independently.
Here are some examples of commercial applications for Distributed Audio
Sports Bars
Conference Rooms
Corporate Auditoriums
Live Music Venues
Commercial Lobbies
Multi-Staged Arenas
Outdoor Dining Areas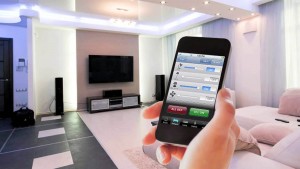 Wired or Wireless Multi-room Audio for the Home
Distributed audio systems can be one of the most enjoyable aspects of a new home. Vast improvements in "in wall" and "in ceiling" flush mounted speakers have given us ability to fill virtually any size room with deep rich ambient music that give you the sound and feel of floor standing speakers while being virtually invisible. With audio distribution a home owner has the capability to play multiple audio sources in any room or area that they desire.
With an extensive amount of in wall, or in ceiling speakers to choose from, we offer our clients the flexibility to meet virtually any budget and the ability to deliver the very best performance available.
Distributed Audio is not limited to inside the home
Distributed audio doesn't stop there though. We can also place speakers outside the home for year round enjoyment. These speakers can be weatherproof stereo speakers, rock speakers, or even speakers disguised as floral planters. All of these solutions can be tucked away from view or placed with the landscaping in mind.
Another great advancement in the area of distributed audio has been the development of keypad and touch-screen systems.
These systems offer many advantages over the standard volume control knob that people typically think of. When properly configured, the keypads/touch-screens allow you control every component in your home audio system, from your XM or AM/FM radio receiver to your digital jukebox. Intelligent feedback from components even allows you see and interactively change what AM/FM and XM stations your on right from the keypad.
More advanced systems can incorporate a digital jukebox, allowing you to store up to thousands of CD's. With proper integration you can view, select, and even search through your entire song collection, sorting by artist, theme, genre, and more.
Here are just a few options of audio sources that can be selected at will:
Streaming music through your iOS or Android device
Media Server
CD Audio
AM/FM Radio
Sirius® Radio
Streaming Services like Pandora® or Spotify
Take one step into an electronics store and it's easy to see; home technologies are changing.  Today's new homes often include sophisticated systems for automation, integration and entertainment.  Unfortunately, with innovation comes an added level of complexity so when it comes to the design and installation of these systems, there is no substitute for product knowledge and installation experience.
We offer professional installation of distributed audio systems for new and existing homes.  If you are thinking about a new HD television or surround sound system but don't know where to begin, our design services make it easy.  Forget the retail headaches; we specialize in designing systems from the ground up with all equipment necessary to make your new system operate smoothly.  Home consultations, purchasing equipment, installation and calibration, as well as education and technical support are all reasons for you to take advantage of the one-stop shopping environment we have created.
We make it possible and economically available for you to integrate these systems into your home!
Contact us today for a free estimate.