Managing employees and visitors traffic through secured areas is best achieved with an access control system. From card access to biometrics and remote administration, we can provide a superior access control solution.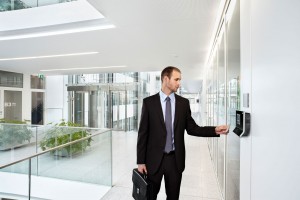 We are an authorized installation and service partner for many local businesses. We have years of experience working with businesses to design the access control system that best fits their needs for performance, flexibility and cost.
The access control systems that we offer range from modest access control systems that use proximity cards, to the most sophisticated biometric systems that use hand geometry, fingerprint and facial recognition technology.
Today, these systems not only control physical access, they provide security badge options and track specific employee, visitor and equipment movements in and out of your premises or restricted areas within your facility. Access control systems can also serve a dual purpose by automating employee time and attendance reporting.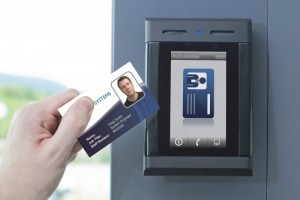 Web-Based Access Control Systems
The web-based access control systems now available through us have no dedicated servers, PCs or hard drives. They are based on solid-state control panels and can be integrated into a company's IT network. Using a web-browser, security administrators can manage the access control system by logging on from any computer that has a network or Internet connection.
These new web-based access control systems are extremely flexible, dramatically scalable and able to grow as a company's needs grow. A small company with an immediate need for a modest system, perhaps controlling four doors at one location with 20 key card-holders, can install a very robust web-based access control system that can easily grow to handle hundreds of doors, thousands of card-holders or employees and multiple locations.
Case Study:  Access Control System Saves Town Money
A municipality in Central Michigan recently completed substantial renovations to its Town Hall and wanted to make sure the building was as secure as possible. Furthermore, the town was spending thousands of dollars a year to re-key locks on office doors, and issue new keys to employees, to keep the building secure in light of employee turn-over.
Given the tight budget constraints facing many municipalities these days, this community didn't always have money available to issue new keys or update locks when needed. That meant, unfortunately, weeks or months would pass after the building's security had been compromised before the community could address the issue.
Realizing they needed a better approach, the town administration opted to install an access control system.
The web-based system is now in place, running on the town's IT network. Some 60 proximity key card holders use it on a daily basis for access to the building, and the town no longer has to worry about the expense or the inconvenience of re-keying locks. Changes to the system, adding or deleting cards, are done through a simple web-based portal.
Wherever you are, as a business owner you can:
Observe employee performance, productivity and behavior.
Know exactly what time your business opens in the morning and closes at night.
Supervise voids, resales and returns by monitoring cash registers with live video or recorded snapshots.
Protect inventory, avoid disruption of your business and create a safer working environment by being alerted to floods and leaks.
Prevent food spoilage and protect inventory by knowing when extreme hot or cold temperatures have been detected.
Observe consumer shopping habits and activity.
Protect expensive merchandise, office equipment, electronics and other indoor valuables by receiving an email or video clip when they have been moved or disturbed.
Find out what days are better for business by tracking exactly when customers enter or exit your establishment.
Manage high employee turnover by assigning and canceling access codes in an instant.
There are many benefits to having an Access Control system, some you may have never thought about. Take full control of every employee's access. With a managed access control solution you will have the ability to add, delete, replace, and restricts employees and guests throughout a facility, building, or premise.  Additionally, on-the-fly changes are quick and easy, allowing you to spend more time on what matters most.
Whether you only need to restrict a specific entry point or an entire facility, our expert engineers can provide the solution to meet your needs.
We provide you with the ultimate peace of mind by allowing you to manage your security system remotely. Notifications and alerts can be programmed and set to give you what you need, when you need it.
Contact us today for a free estimate.