Alarms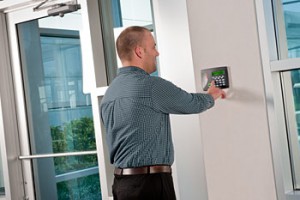 Keeping your business safe and secure is our number one priority. Our commercial intrusion detection systems employ the latest developments in electronic security. We will deploy a custom system to meet the unique needs of your facilities regardless of size, using sensors and peripheral devices made for your application.
Our combination of proven technologies provides you with complete protection and total flexibility, all in one platform.
Once our intrusion detection systems are installed, you can keep track of activity via the Internet—at the office, at home or on your smartphone.
It is never too early or too late to think about adding a security system to your home or business new and old. Thanks to technologically advanced wireless security options, adding a security system has never been easier. With the help of new technology, new options are available to add enhancements such as light and temperature control to the security system. Different levels of security are available, featuring door/ window contact sensors, motion detectors, and glass break sensors. Our systems offer a variety of features and are very user friendly.
Protect your family and business with a complete security system from us. Whether you are building a new home or business, or have an existing home or business with security needs, our experts can design a system that is right for you.
Are you ready to take you security mobile?
We deliver next generation alarm technology with a smart wireless alarm system, where you can remotely arm and disarm your alarm system, receive instant email and text alerts when a specific activity occurred, review alarm activities history, video, and more. These can all be accessed and controlled through your smartphone- including iPhone or Android.
Did you know?
According to the FBI, in the United States a burglar breaks in every 14 seconds and buildings without an alarm system are 3 times more likely to be burglarized. Don't allow your business or home to become a target for criminals. Insurance companies commonly offer discounts of 5 – 20% when the insured premises are protected by alarm security systems.
An alarm security system is designed to protect your family, property and business whether you are there or far away.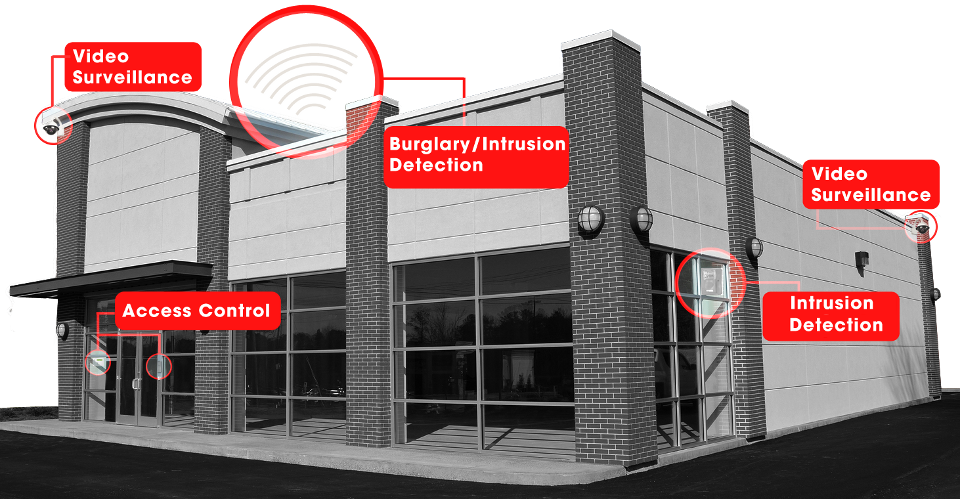 Commercial Intrusion Alarm Features & Options:
Integrates with your fire safety alarm systems, security system access control and business security cameras/surveillance systems.
A full range of available peripheral devices, including motion detectors and photoelectric beams, magnetic contacts, shock and pressure sensors, temperature sensors and glass break detectors.
Optional lighting control and other auxiliary functions.
Systems available to accommodate a wide range of needs, from small facilities to large partitioned system applications.
Our commercial security systems significantly reduce the threat of intrusion, enhance operational efficiency, and protect your employees and your customers 24/7. Consider a few facts:
There is a burglary somewhere in the United States every 14 seconds.
Over half of all commercial burglaries occur after dark.
Over one third of inventory loss occurs as a result of shoplifting.
Experts believe that businesses lose more to employee theft than to burglary, robbery and shoplifting combined.
How do I decide how much protection is right for my business?
We can evaluate and recommend security solutions for your company's unique needs. You may consider Opening and Closing reports as a way for you to keep track of events occurring at your business. Opening and Closing reporting is a tracking system that gives business owners and managers critical information that assists in watching day to day operations. Depending on the option you select, opening/closing reports can be supplied to you monthly or weekly. Contact us for a free consultation.
Why choose our Security System?
We are your dedicated partner in providing today's finest business security alarm systems to fit your needs and budget. We value and care about your safety as much as you do.
Contact us today for a free estimate.